Seiteninhalt
Accompanying programmes
MünsterRadGuide
Guided bike tours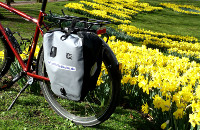 Guided bike tour
Leap onto your Leeze (as the people of Münster call a bicycle) and take an entertaining tour with an experienced cycle guide, who will show you the interesting and beautiful sights and amusing and comical facts you can discover in Germany's cycle capital. The green promenade – the most beautiful bicycle highway in the world –, Prinzipalmarkt, Antiquariat Wilsberg, Lake Aasee and much more – you will "experience" it. From a short one-hour cycle tour to a tour programme over several days, we can offer you a programme tailored completely to your wishes.
And if you need hire bikes or want to try out an e-bike – we can organise that for you too.
---
Green / sustainable measures:
We move with our own physical power.
100% emission-free.
Delicious organic lunch packages from the Schoppe organic food shop can also be booked on request.
Discover quiet natural paradises.
Our Leezen (bicycles) can be used several times and are recyclable.
---
Contact:
MünsterRadGuide
Hohenzollernring 36, 48145 Münste
Your contact person: Stefan Wolf
Tel. +49 (0)2 51 27 16 36
---
---