Seiteninhalt
Accompanying programmes
Green / sustainable measures:
Preference for regional suppliers and products
Vegetarian & vegan dishes
Refrain from using plastic disposable tableware
Use of intelligent LED lighting technology
Waste separation
---
Space Escape – Beam your team
Innovative team event in the style of an escape game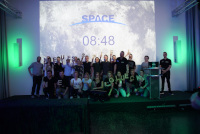 Team "Space Escape"
We are looking at the blue planet from 400,000 feet and planning the moon landing. Yet suddenly, the lightness of being is destroyed! Is the step of a man enough to stop the countdown, or is a whole crew needed? "Space Escape" is entertaining and suspenseful. Only through the active cooperation of all participants can the mission succeed. A captivating supporting programme - no matter what the occasion. Can also be used for hybrid events!
Special features
Provides a feeling of togetherness
Eliminates existing hierarchy levels
Requires different talents and skills
Encourages thinking out of the box
Strengthens mutual trust
Teambuilding for digital and analogue teams at the same time
---
Contact:
Space Escape
SpielPROviel GmbH & Co.KG
Johann-Krane-Weg 46/48, 48149 Münster
Your contact: Thorsten Dreps
Tel. +49 (0)2 51 27 04 80 33
---
---