Seiteninhalt
Catering
Kleiner Kiepenkerl
We would like to invite you to get to know us better!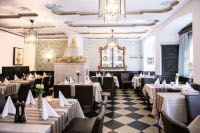 Picture gallery Kleiner Kiepenkerl
Our building looks back on over 300 years of history and is a popular meeting place for the people of Münster and visitors from the region and across the globe. Our restaurant breathes Westphalian history and yet forms a bridge to the present and future. Arched ceilings, classically tiled floors in the restaurant and wooden wall panels are features which have been cherished by guests for generations.
The building's rooms are designed so that you can celebrate family or company parties among yourselves. The Anette Room is especially suitable for this. Our cuisine is down-to-earth, regional and hearty but also fine and international and of course always fresh.
---
Contact:
Kleiner Kiepenkerl
Spiekerhof 47, 48143 Münster
Your contact: Kai Merschmöller
Tel. +49 (0) 2 51 4 34 16
---
---