Seiteninhalt
Conference locations with a special air
Allwetterzoo Münster (All-weather zoo)
Have a great evening at the Allwetterzoo Münster!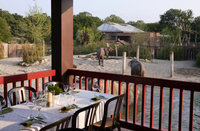 Picture gallery Allwetterzoo Münster (All-weather zoo)
"Experience animals close up" is the motto of the Allwetterzoo! And this also applies to you if you come to us to end your conference. We will be happy to guide you through the zoo in the evening, past lions, tigers and elephants. Listen to the fascinating noises and then, after the guided tour, enjoy a picnic or even a candlelight dinner with elephants, fish or the animals of Africa. Would you like to just stretch your legs in the zoo or just eat a snack? No problem, talk to us, we will be happy to advise you and put together an individual programme for you in our surroundings.
Our tip: plan your accompanying programme or even your complete conference with us at the zoo. Experience our animals "up close", e.g. if you feed elephants and parrots, accompany the penguins on their stroll or stand "eye to eye" with tigers, lions and gorillas.
---
Capacity:
| Conference rooms (name) | Max. number of participants |
| --- | --- |
| Elephant house (Se. March) | 90 |
| Aquarium (whole year) | 70 |
| Bistro at the children's and horse park (April - Sept.) | 50 |
| Asiatic longhouse at the elephant park (May - Sept.) | 60 |
| Zoo catering (whole year, including during the day) | 84 / 95 |
| Zoo school (whole year) | 90 |
Equipment & special features:
3,000 animals from all parts of the world
12 animal houses that you can walk through, sometimes connected by roofed paths
Elephant park with feeding
Walk-in monkey enclosure and large open-air areas for apes
ZoORANGerie wit orang-utans
Children's & horse park with petting meadow
Palm house & aquarium
Africa panorama with Serengeti lodge
Penguin march and seal training
Public feeding with big cats, bears, monkeys and armadillos
Numerous picnic and play areas, zoo catering and kiosks
Green / sustainable measures:
Certified according to ÖKOPROFIT (2001, 2002/03, 2009/10, 2015/16)
The protection of nature, the environment and resources are an integral part of the concept of this zoo. The use of renewable energy sources is a high priority. The Allwetterzoo is thus the only zoo in Germany that has "energy passes" for animal houses and that has constructed an energy-efficiency house for its bull elephant.
All areas of procurement are governed by the criteria of sustainability. Where possible, recycling products, FSC and MSC products and regional products are used in the Allwetterzoo. This applies to the animal feed as well as to the catering.
The Allwetterzoo informs its visitors in many different ways about the subjects of nature, environ-mental and resource protection. There are informative exhibitions, an "energy trail", information panels, guided tours and educational programmes.
Via its homepage and with a collection box in the entrance area, the Allwetterzoo asks its visitors to hand in old mobile phones. The revenues generated with the recycling are used for species protection.
Environmental and resource conservation also plays an important role in the Allwetterzoo's species protection projects in Vietnam and Cambodia, e.g. through a reforestation project with the municipal utilities of Münster and the sustainable use of energy and water.
Contact:
Allwetterzoo Münster
Sentruper Straße 315, 48161 Münster
Your contact person: Florence Beermann
Tel. +49 (0)2 51 89 04 236
---
---