Seiteninhalt
Twinning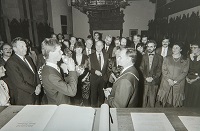 September 15, 1990
Town twinning with Münster
This partnership was made possible thanks Germany's recent history. The City of Münster had already tried to establish relations with a city in the former GDR in the 1980s. But it was not until Germany, which had been divided after the Second World War, was reunited again, not until the German-German border reopened, that the friendship treaty between Mühlhausen and Münster was signed in 1990. It was the first partnership between two German cities with democratically elected municipal parliaments.
Initially, the friendship was concerned with a comprehensive administrative assistance for four years. At the same time, there were and are numerous encounters between organisations, clubs and associations: choirs and music ensembles, artists and those interested in art, bakers as well as funfair and carnival fans – to single out just a few – fill the town twinning with life. Since its beginnings, the partnership has been actively promoted and supported by the Association "Freunde Mühlhausens e. V.".
---
30 years of town twinning Münster – Mühlhausen
Small anniversary celebration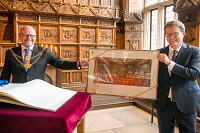 Reception in the Friedenssaal
An eight-member delegation from Mühlhausen, led by Mayor Dr. Johannes Bruns, came to Münster on October 2 to take part in this year's non-public ceremony marking German Unity Day at the town hall. This was followed by an anniversary celebration on the 30th anniversary of town twinning, which took place in a small group. Unfortunately, due to the corona crisis, only a few guests from Mühlhausen and Münster could attend the celebration. The city dean Jörg Hagemann held a peace service in the Lambertikirche. The German Amateur Radio Club Münster set up a radio bridge to Mühlhausen on that day.
---