Seiteninhalt
Sculptures in Münster
Heinz Mack - Water Sculpture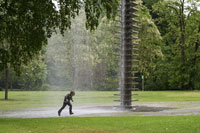 Heinz Mack - Water Sculpture
A metal pipe, sixteen meters high, is ornamented on opposite sides with 46 pairs of lamellae. At the bottom, they oppose each other on a horizontal plane. Moving upward, the slant of each lamella is increased by one degree, so that the highest plates are at 45-degree angles.
They form a transition zone between material and space, which the eye follows in an upward movement. Water can spout from the top, and as it falls, it creates a veil of spray and an opposing downward movement.
In 1958, Mack and Otto Piene were cofounders of the ZERO group in Düsseldorf; they attempted to overcome material limitations through space, light, and movement.
Landesbausparkasse, Himmelreichallee 40
---
---