Seiteninhalt
Theatre in Münster
GOP Varieté-Theater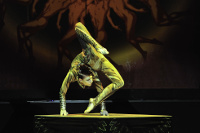 Performance in the GOP Varieté
The GOP Varieté-Theater (Vaudeville Theatre) across from the main station is a cultural point of attraction in the Münsterland, enthralling patrons time and time again with breath-taking artistry, modern clownery, and a creative catering concept.
Tasty arranged menus are created in the in-house kitchen, while the cordial service team makes guests feel at home.
Showtime is Wednesdays to Sundays.
GOP Varieté-Theater
Bahnhofstraße 20 - 22
---
---