Seiteninhalt
Arts and culture
Updatet: October 2021
Guided city tours
Münsterbus
10 am – 4 pm Fri.-Mon.
city tours on the festive double-decker bus
and many more:
Churches and concerts
Bell ringing
The carillon is currently not in operation due to construction work on the Stadthaus tower. But there are five more carillons spread throughout the city centre.
Visit the Liebfrauen-Überwasserkirche, where the City Advent event, with its installations and inspirations, is held. Experience the "Lux3" exhibition and discover the seasonally decorated nave (open daily). Visit St. Paulus Dom of Münster and the inner-city churches and enjoy: music, candlelight, church services and prayer.
Exhibitions
Dominikanerkirche
Zwei graue Doppelspiegel für ein Pendel (Gerhard Richter), from end of November
LWL-Museum für Kunst und Kultur
Nimmersatt? Gesellschaft ohne Wachstum denken
Kunstmuseum Pablo Picasso
Rendezvous der Freunde – Camoin, Marquet, Manguin, Matisse
Stadtmuseum Münster
Münster auf alten Postkarten – Rund um die Promenade zum Zoo
Hall Of Peace in the Historic Town Hall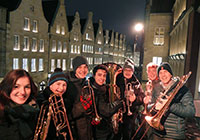 Advent music from the Sentenzbogen
On all Advent Saturdays, brass music will be heard for 30 minutes at 4.48 pm from the Sentenzbogen of the Stadtweinhaus on Prinzipalmarkt and from the Lambertikirchturm - from there also on Wednesdays during market hours.
---
For children
Childcare in the Maxi-Turm
Syndikatplatz 6, Mon – Fri 2 pm – 6 pm, Sat 10 am – 6 pm
(from 3 – 10 years)
Theater Münster
Robin Hood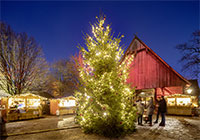 Christmastree
Westphalian Christmas Market at the Mühlenhof
A special Christmas market with a lot of nostalgia takes place on all four Advent weekends in the historic open-air museum Mühlenhof. On the approximately five-hectare site, visitors can expect to find wooden huts lovingly decorated for Christmas next to around 30 buildings from the 17th to 19th centuries. They offer high-quality and typical Westphalian goods, decorations and many beautiful gift ideas for Christmas. The market is open on Saturdays from 12 to 8 pm and on Sundays from 12 to 7 pm.
www.muehlenhof-muenster.org
---
Christmas Garden
Christmas Garden at the Allwetterzoo
From 19 November to 9 January, the Allwetterzoo is transformed into a glowing fairytale landscape. Light shows, staged flora and fauna and imaginative illuminated figures make the two-kilometre-long circular walk a contemplative experience for the whole family. Made famous in London in 2014, the Christmas Garden has also been staged in German cities every year since 2016. Admission is daily from 5 to 10 pm. www.allwetterzoo.de
---