Seiteninhalt
Contact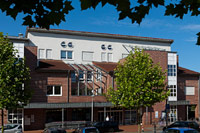 Kinderhaus, Idenbrockplatz
The North Office is responsible for consulting and supporting job-seekers from Kinderhaus, Coerde and Sprakel.
Just like the main office in Stadthaus 2, you can also apply for payments according to Volume II of the German Social Code in the North Office.
Detailed information on the scope of payments and the individual prerequisites can be obtained in the customer centre of the office.
---
---