Ombudsstelle für das Jobcenter Münster
Mediation office for clients of the Jobcenter Münster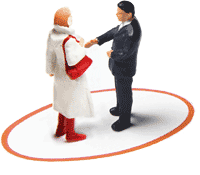 Frustrated with the Jobcenter?
Want to move, but the Jobcenter has denied it? You want further training, but the Jobcenter won't approve it? Do you have the feeling your arguments aren't being heard correctly? - Be advised of your options.
You'll find neutral and independent help – for free - at the new mediation office ("Ombudsstelle") for the Jobcenter Münster.
The mediators work on a voluntary basis and are not affiliated with the Jobcenter. They speak with you to understand your situation. They advise you on your legal options and where you can find further guidance and support in Münster.
Your concerns will be treated confidentially. Contact with the Jobcenter – if any at all - will be made only with your consent.
---
Ideas and Feedback
The Ombudsstelle is the right address for more than specific complaints on an individual basis, it's also a place for general concerns and feedback that you can't or don't wish to share with the Jobcenter.
Not a substitute for legal process or social counselling
Please note: a visit to the Ombudsstelle is not a substitute for due legal process.
You may only lodge a protest or bring suit at the Social Court of Münster against a ruling from the Jobcenter Münster. This information can be found on every ruling (instruction to right to appeal – Rechtsbehelfsbelehrung). Initiating contact with the Ombudsstelle does not stop this deadline. It also will not invalidate a ruling from the Jobcenter.
The Ombudsstelle does not offer the assistance and guidance of the social offices and consultation services of charitable organizations, but is happy to refer to them: