Seiteninhalt
Welcome
... to the Foreigners' Registration Office in the city of Münster.
The residence law is a part of the Office of migration and integration. We are the first point of contact for all residence matters in the city of Münster. More than 60 employees ensure that all official procedures concerning entry and residence titles run as smoothly as possible. We check the granting of residence permits and settlement permits for you. In addition, we are also there for you if you are in possession of a toleration. And during the asylum procedure we issue and extend your residence permit.
You will find us near the Ludgerikreisel at Ludgeriplatz 4 in Stadthaus 2. If you have any questions about your stay in Münster, please do not hesitate to contact us.
The right of chance residence is coming!
The German government has passed a bill to reform the Residence Act and thus also to introduce a right of opportunity to stay for Geduldete.
It is expected that the right of opportunity residence could come into force as early as fall/winter of this year. The draft law provides for a one-year residence permit that will give long-term tolerated persons the opportunity to fulfill the necessary requirements for a permanent right to stay in Germany.
This is intended to put an end to the current practice of chain toleration and to enable better integration into society. The federal government provides information about this on its homepage and we would also like to inform you about it in more detail on the following page: Further information on the right of residence
---
Office for Migration and Integration
By council resolution of June 14, 2022, the Office for Migration and Integration was formed from the Municipal Integration Center (KI) and the Foreigners Registration Office.
All case workers can still be reached by their customers at the familiar extension numbers, by e-mail or also via the hotline.
Immigration is one of the major issues of our time, which is why the new office will consistently focus its work on consolidating and expanding the existing culture of welcome in Münster. This includes the topics of migration mission statement, integration monitoring, work critical of racism, municipal integration management and right of residence.
Just under a quarter of the resident population has a migration history and about half of them have a nationality other than German. "Thus, integration remains one of our most important tasks," says Lord Mayor Markus Lewe in the foreword to the Migration Mission Statement 2019.
Kommunales Integrationszentrum Münster
---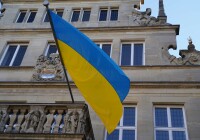 Information for People from Ukraine
Our solidarity and support goes out to all people fleeing from Ukraine and seeking protection in our city.
We would like to inform you about the current regulations regarding the right of residence. In implementation of the currently applicable regulations of the Federal Ministry of the Interior and for Homeland (BMI), we have compiled information in accordance with the currently valid regulations:
---
Information about leaving Afghanistan
Since August 15, 2021 the German embassy in Kabul is closed. Visa procedures for Afghan citizens are currently operated through the embassies in Islamabad and New Delhi. The military airlift of the Bundeswehr has been terminated until further information. Persons wishing to leave Afghanistan can contact the German Foreign Office.
More Information
---
Make an appointment
In order to be able to process your request as soon as possible, it is no longer possible to book an appointment independently. Instead, the appointment arrangement was changed to an appointment request. With this procedure, we would like to enable you to receive the extension of your residence permit or an appointment for the submission of the declaration of commitment as soon as possible.
Further information about the appointment request
When the residence permit gets here from the Federal Printing Office in Berlin, you will get a letter with your PIN- and PUK-number. We will send you an appointment to pick up your residence permit. Please do not come around to pick up your residence permit without an appointment.
If you are staying abroad and wish to enter Germany, you will find further information on travel restrictions on the website of the Federal Ministry of the Interior, for Construction and Home Affairs.
At last, we have some suggestions for your personal visit:
Please do not visit us without an appointment! If you have any questions concerning your stay in Germany, please contact us via phone (02 51/4 92–36 36) or e-mail. A personal visit isn't possible, except you have an appointment!
The entrance to the building is only possible if you wear a mask.
If you have an appointment for you and your family members, please enter the office solo. Your family members can wait in the waiting room and you can enter the office one after another.
Thank you for your comprehension!
Current information on COVID-19
---
Information brochure for new residents
We have put together an information folder for you in which you will find a lot of important information about your start in Münster.
---
---