Seiteninhalt
Sports in Münster
From Prinzipalmarkt to the Münsterland in hiking shoes
Who said that mountains are needed when it comes to hiking? It's true that the landscape surrounding Münster is flat, but it's anything but boring! A network of hiking paths, which are rich in variety and hardly slope at all, make Münsterland an ideal hiking area for both old and young.
Put on a pair of comfortable, sturdy shoes and get going! Hike along the traditional processional and pilgrim paths or side routes and into the park landscape. This is where you can discover farms in picturesque settings and enjoy the diversified landscape.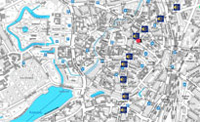 Way of St. James
Way of St. James
Commencing at the baroque Dyckburg Church in the northeast of Münster, the Way of St. James carries on through the centre of the old town, terminating at the Clemens Church in Münster-Hiltrup (then onwards in the direction of Santiago de Compostela).
---
---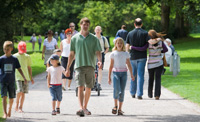 Around the lake Aasee
Around the lake Aasee
The 8-kilometer long path around the lake Aasee is one of the classic hikes. Lake Aa Park has the potential of a 3-day excursion, however, due to its charming detour to the sculptures, the open-air museum, and much more!
---
---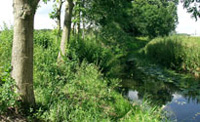 On the way to Münster-Amelsbüren
From the city centre to Münster-Amelsbüren
This hike is rich in variety and extends from the Münster promenade along the lake Aasee, terminating in Münster-Amelsbüren. There is much to see along the 14 kilometre route, such as one of Münster's oldest farms …
---
---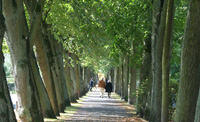 The old procession path
City, Country, River – from Münster to Telgte
The old procession path extends from Münster city centre and goes past the Pleister Mill before coming to an end in Telgte 13 kilometres away. Here the miraculous image of the Dolorous Mother of God is the destination of around 150,000 pilgrims every year.
---
---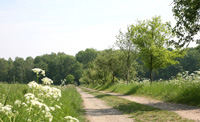 From Münster to Greven
From Münster to Greven
This hike extends over a distance of 22 kilometres from Münster railway station to Greven railway station – across the Westphalian metropolis, Coerde, along the canal and the Ems, and passing through a landscape rich in variety.
---
---