Seiteninhalt
Welcome to Münster!
City of science, city of sculptures, city of the Peace of Westphalia, city of bicycles, Hanseatic city - Münster is a living metropolis with many faces. But you'd best make up your own mind, and we wish you a good time doing so!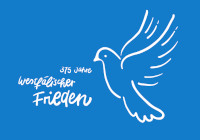 375 Years of the Peace of Westphalia
"375 years Peace of Westphalia" is a project by, and for the entire city society. The program consists of thought provoking, encounter- and dialogue-oriented events linked to the current conflicts but with a link to the past. Two dates from 1648 are standing out in our program. Namely, May 15th, the Peace of Münster, ratification of the peace signed between the Spanish and the Dutch ending the Eighty Years' war and October 24th, signing of the Peace of Westphalia.
www.stadt-muenster.de/en/peace
---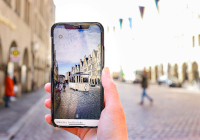 Explore Münster – Your City Guide
Our free city tour app! Explore Münster takes you on an entertaining tour through our wonderful old inner city. The app shows you interesting facts about Münster's past and present. Through Augmented Reality you get to experience lost aspects of Münster. Simply download the app from the Apple App Store for iOS or the Google Play for Android, and you are good to go!
Explore Münster
---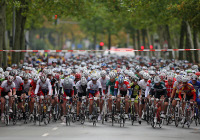 3.10.2023
Sparkassen Münsterland Giro 2022
Bike racing
With over 4,000 participants, the Sparkassen Münsterland Giro has developed into the third largest cycling event in Germany within a few years.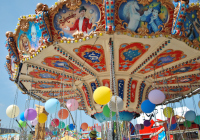 21.10.2023 - 29.10.2023
Send
Münster's fantastic funfair on Schlossplatz
Three times a year, when Schlossplatz, the great open space backed by the baroque splendour of the former Palace of the ruling prince-bishops, is turned into a fantastic amusement park, it's "Send" time again in Münster. From nostalgic, old-style merry-go-rounds to the latest in high-tech fairground attractions, and with food stalls for every taste, plus the traditional crockery market, the biggest and oldest funfair in the Münsterland offers everything the heart of any visitor – from the youngest to the oldest – could desire.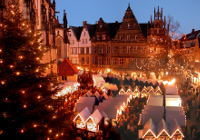 27.11.2023 - 23.12.2023
Christmas Markets
Visitors to the Christmas markets in the Münster city area must be fully immunised, i.e. vaccinated or recovered.
Six unique Christmas markets, around 250 stalls in total: if the pandemic situation allows, the Christmas markets will take place between Aegidiimarkt, Spiekerhof, Überwasserkirchplatz, Lamberti and another market area at Harsewinkelplatz from 27 November to 23 December.
https://www.stadt-muenster.de/en/weihnachtsmarkt/home