Seiteninhalt
City of conferences
Convening successfully since 1648
Cosmopolitan and dynamic, Münster provides the daily setting for both national and international meetings, seminars, and conventions.
We are the contact point for any questions regarding congress marketing. We are happy to provide you with information and services around the topic of conferences in Münster and are looking forward to speaking with you personally!
Your direct contact:
Tel. + 49 (0)2 51.4 92-16 48
kongress@stadt-muenster.de
---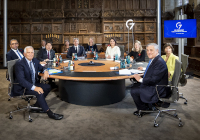 The G7 foreign ministers in Münster
The G7 foreign ministers in Münster
Münster has a great historical tradition as a congress city. Part of the peace treaties of the Peace of Westphalia of 1648 were negotiated in the city for several years.
On 3 and 4 November 2022, Münster was the focus of world political events as the venue for the G7 meeting of foreign ministers. The conference is one of the most important international events in the city's history.
Special page of the City of Münster on the Foreign Ministers' Meeting
---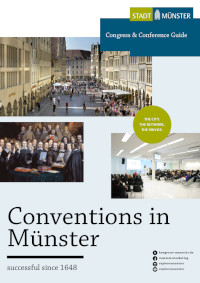 Conference and Convention Guide Münster
The Conference and Convention Guide gives you an overview of Münster - City of Conferences, and answers some initial questions concerning the city, conference capacities and the Münster Marketing Conference Office 5-phase bonus. You can find the information you are looking for in the guide below or under the individual menu points in the navigation section on the left.
---
---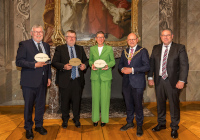 Congress Award Münster 2023
Congress Award Münster
The award is an acknowledgement and thank you given from the KONGRESSINITIATIVE MS.
It was awarded to Professor Dr. Christian Fischer (Westfälische Wilhelms-Universität Münster) and Professor Dr. Joachim Gardemann (University of Applied Sciences Münster) in 2014 for the first time.
In 2016, three prizewinners were honoured. Professor Dr. Uwe Karst, Dr. Siegfried Krause and Professor Dr. Dr. Hugo Van Aken.
On February 6th, 2019, Professor Dr. Peter Funke was rewarded for the 52. Deutscher Historikertag in September 2018.
On 30 March 2023, the Münster Congress Prize was awarded to Professor Dr Sabine Flamme, Professor Dr Hans Schöler and Professor Dr Bernd Strauß at the Erbdrostenhof.
---
---