Seiteninhalt
Peace of Westphalia
History obliges
Münster is cosmopolitan, looking back on over 1,200 years of town history. Be it as a diocesan town, Hanseatic city, capital of the Prussian province of Westphalia, university town or modern high level centre - Münster has always played an eminent role both for the region and far beyond. But it is one particular event for which Münster has made a name of for itself in world history: as the city of the Peace of Westphalia.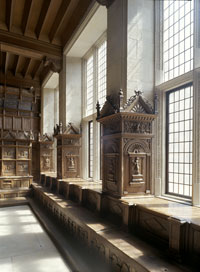 Window wall in the Hall of Peace
The European powers had negotiated for five years in Münster and Osnabrück before they could put an end to the Thirty Years' War in Europe. October 24, 1648 was the official day of the conclusion of the peace treaty. This great event was celebrated from summer 1648 to early 1649 with numerous acts of state and commemorative events - and Münster, as the city of the Peace of Westphalia, is inextricably linked to that event until the present day.
The conditions underlying the negotiations were difficult, as can be easily imagined: there was no armistice, the acts of war were continuing uninterruptedly, and there were just as few internationally acknowledged and proven rules for conducting such negotiations. Therefore, the negotiations on the path to the Peace of Westphalia are regarded as significant milestones on the way to a European framework of peace and to the development of today's law of nations.
The city of Münster refers to these negotiations with an annual series of events, honouring not just the the historical event and its impact on history. Under the motto "Peace of Westphalia - yesterday. today. tomorrow.", particularly the contemporary and future relevance of the Peace of Westphalia is what's put in the spotlight.
This way Münster makes use of its history in assuming responsibility for today and tomorrow when it comes to developing new instruments and procedures for conflict prevention, conflict resolution, and peacekeeping for today's trouble spots, or struggling for consensus by negotiation.
---