Seiteninhalt
Events and dates
What's up in Münster?
Be it top athletic performances, cultural highlights or plenty of fun for the young and old - Münster's calendar of events is filled to the brim throughout the year. And it often includes highlights that attract international even attention.
We've drawn up a series of special events for the current year in more detail.
We would be pleased to assist you in booking the appropriate hotel room or selecting the accompanying programme. Just call us or send us an e-mail.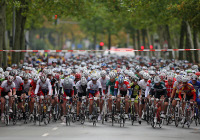 3.10.2023
Sparkassen Münsterland Giro 2022
Bike racing
With over 4,000 participants, the Sparkassen Münsterland Giro has developed into the third largest cycling event in Germany within a few years.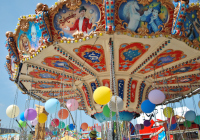 21.10.2023 - 29.10.2023
Send
Münster's fantastic funfair on Schlossplatz
Three times a year, when Schlossplatz, the great open space backed by the baroque splendour of the former Palace of the ruling prince-bishops, is turned into a fantastic amusement park, it's "Send" time again in Münster. From nostalgic, old-style merry-go-rounds to the latest in high-tech fairground attractions, and with food stalls for every taste, plus the traditional crockery market, the biggest and oldest funfair in the Münsterland offers everything the heart of any visitor – from the youngest to the oldest – could desire.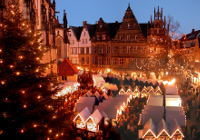 27.11.2023 - 23.12.2023
Christmas Markets
Visitors to the Christmas markets in the Münster city area must be fully immunised, i.e. vaccinated or recovered.
Six unique Christmas markets, around 250 stalls in total: if the pandemic situation allows, the Christmas markets will take place between Aegidiimarkt, Spiekerhof, Überwasserkirchplatz, Lamberti and another market area at Harsewinkelplatz from 27 November to 23 December.
https://www.stadt-muenster.de/en/weihnachtsmarkt/home