Seiteninhalt
Sports in Münster
"Lord of the Board" – Titus Dittmann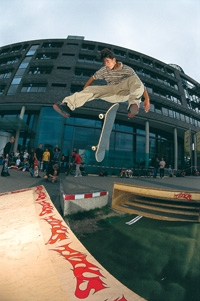 Skateboarder
The Münster resident, Titus Dittmann, made skateboarding popular in Germany more than 30 years ago – and at the same time made Münster a place of pilgrimage for the skater scene.
In 1978, the future sports and geography teacher invested a civil servant loan in a skate park. A short time later, Titus Dittmann and his wife opened Europe's first skateboarding ship in Münster and, a good 30 years later, skateboarding was vested with academic honour in Münster when Titus Dittmann was awarded a lectureship with the Department of Sport and Exercise Sciences.
With such a great amount of pioneering spirit and passion for skateboarding, it almost goes without saying that there are some good skateboarding locations in Münster.
In addition to the Skaters Palace skateboarding hall, the skateboarders can also use a whole range of outdoor facilities for perfecting their skills on the board free-of-charge, such as the Municipal Authority of Münster skateboarding centre and the skateboarding park. The skateboarding spot in front of the Münster Public Utilities building at the harbour is also very popular, even though it's not exactly official. This is where the skaters practise – and the harbour visitors watch in astonishment.
---