Seiteninhalt
Sports in Münster
Sailing, canoeing and more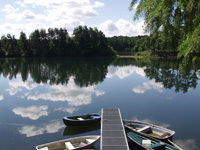 Hiltruper See
An afternoon in a pedal boat on Aasee (Lake Aa), an idyllic canoeing tour on the Werse, or a sailing trip on Hiltruper See (Lake) – fans of watersports will find enough opportunities in Münster.
Yachting clubs and pedal boat hire ensure a colourful hustle and bustle and lots of fun on Aasee, which covers a good 40 hectares area. Really exciting events are the sailing regattas, which the clubs organize on an annual basis. Rowing competitions also take place on the regatta course, which extends over the entire length of the lake.
Those who like to take things a little slower can hire a canoe and paddle along the Werse or the Ems, passing through the green Münsterland. These small, quiet rivers are also most suitable for families and beginners, and secluded places to stop for a picnic and wonderful landscape views are waiting behind every curve.
---