Seiteninhalt
Enschede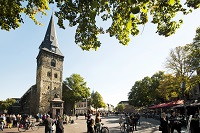 Great Church
Enschede – a brief profile
Located near the German border, Enschede is the largest shopping city in the east of the Netherlands. Enschede surprises with a unique mix of international stores and local boutiques that have settled around the Ouden Markt. Stores are open on Sundays (and public holidays!), which in addition to the large weekly market attracts many visitors from Münster and from far away. On Tuesdays and Saturdays, fresh fish, cheese, colourful tulips and warm Stroop waffles add to a typical Dutch flair that can be experienced at the Van Heekplein weekly market right in the city centre. In addition to the great shopping opportunities, Enschede has a lot more to offer – from musical and cultural highlights to wellness and leisure opportunities and a wide range of culinary delights, there surely is something for everybody.
Music festivals are a special pleasure. The festival season traditionally starts with the "Koningsfestival Enschede" at the end of April and comes to an end in September when the "Tuckerville Festival" takes place. Food festivals, too, are becoming more popular because of their experimental innovation: the "Food Festival Stoer Over", the "Mout Bierfestival" or the "Proef Eet", which has been held for over 30 years, provide very special taste experiences.
Away from the city centre, nature lovers can enjoy parks and green routs for cycling or walking. Rondje Enschede, a bicycle and hiking trail in and around Enschede, not only offers the Twente landscape but also exciting resting places at art galleries or blueberry cultivation farms. If you want to enjoy summer to the fullest, numerous water sports activities are offered at Rutbeek Lake.Public sports events also attract many guests and visitors, such as the Enschede Marathon, which has been taking place since 1947 and is therefore the second oldest marathon in Europe.
---