Seiteninhalt
Lublin
Lublin – a brief profile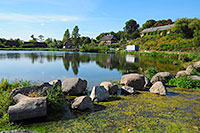 Village Museum
In former times, travellers came to Lublin via drawbridges and then through the Brama Krakowska (the Krakow Gate) or the Brama Grodzka (the Castle Gate). The bridges no longer exist, but the two large gates still form the entrance to the city, a historical place with medieval alleys, churches, an old town hall and numerous richly decorated Renaissance town houses.Not only is it the old town where visitors will find attractions. The later developed urban area is also worth a visit, first of all the castle on a hill which houses the Lublin Museum. Besides, many parks and green spaces break up the cityscape. The oldest is the Ogród Saski, the Saxon Park, built in 1837.
Until World War II, Lublin was an important centre of Jewish culture and education. Then, the Nazi occupiers destroyed the Jewish district of the city. In 1941, they built the Majdanek concentration and extermination camp near the city, which today serves as a memorial to the victims of tyranny.
Lublin's cultural presence is shaped by a lively theatre and music scene. There are numerous theatre groups and the philharmonic orchestra, too. National and international theatre and music festivals take place regularly. University students also take part in the city's cultural life with theatre productions and concerts.
---