Seiteninhalt
Monastir
Monastir – a brief profile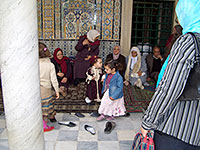 Everyday life in Monastir, Photo: Tourist Office of Monastir
Monastir is a well-known and popular holiday destination, and not only is this true because the small town offers an ideal climate, first-class hotels, a marina, white beaches and the clear turquoise waters of the Mediterranean Sea.
First of all, it is the kind hospitality of its citizens that invites you to get to know their foreign culture. The former President of Tunisia, Habib Bourguiba, who was born in Monastir, liked to refer to his country as the "crossroads and crossfire of civilisations". This is particularly obvious in Monastir: Being located on the edge of the African continent and in proximity to Europe made the city a melting pot of Central European and Islamic culture.
In Monastir, traditions and modern life go hand in hand in a unique way. In this sense, traditional crafts, for example in the textile production, can be found alongside with modern services. New housing estates and modern buildings such as the congress centre, the university, various medical faculties and the airport make up the cityscape. But with all the winding streets, low passages and small alleys, visitors will also find themselves in an old Arabian city. Great importance is attached to careful restoration of the historical building structure. For instance, the Ribat – a fortified monastery and the heart of Monastir – is no home to a museum for Islamic art.
---