Seiteninhalt
Rishon LeZion
Rishon LeZion – a brief profile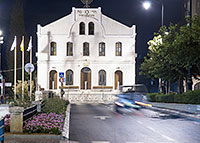 Synagogue in Rishon LeZion
Rishon LeZion is Münster's youngest twin town. But in the 100 years of its existing, it has developed enormously. 17 Jewish emigrants from Eastern Europe built the settlement in the barren dune sand in 1882. Today, the population of Rishon LeZion is continuously growing, and that is for a good reason: The city is located in the centre of the country, offers sufficient jobs and, last but not least, has large land reserves. This is the only place where new residential and commercial areas are being developed – nowhere else in central Israel.
Over time, people from all over the world have come to Rishon Le Zion. Most citizens are Russian, Romanian, German, Yemeni, Moroccan and Iranian immigrants or their descendants. This cultural diversity is reflected in the different architectural styles in the individual residential areas, too.
Wine cultivation has a long-standing tradition. The annual wine festival is one of the biggest celebrations in Israel. It is celebrated with choirs, dance groups and a variety of artists from all over the country for a whole week. At the end of 1998, the new cultural centre was completed, where the symphony orchestra plays regularly, known far beyond Israel. In 2010, a memorial was erected for the leaders of Israel, such as Theodore Herzl, David Ben Gurion and Yitzack Rabin, in the Nation's Leaders Park.
---