Seiteninhalt
Bicycle tour
Discover art by pedal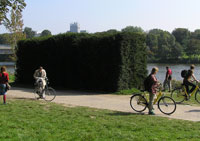 Bicyclists in front of the sculpture by Rosemarie Trockel
Münster boasts one of the most prominent collections of art works in the urban space. The exciting works have for the most part been created for the skulptur projekte münster, a series of exhibitions every ten years which has invited artists to create sculptures for particular places in Münster ever since 1977.
5 tours - between 3 and 13 km - take you to 57 sculptures in total, along the historical and modern buildings of the old town (e.g. in the Rathaus (town-hall) yard: Tolerance through Dialogue by Eduardo Chillida), around the entire Aasee (Pool Balls by Claes Oldenburg), through Münster's eastern and northern districts, or past the palace, through the Botanischer Garten (Botanical Garden) and the university district.
The sculpture guide with expeditions for pedestrians, bicyclists, and others can be obtained from the Münster Information Centre at a price of EUR 1.00.
---