Seiteninhalt
Bicycle tours
Expeditions by bicycle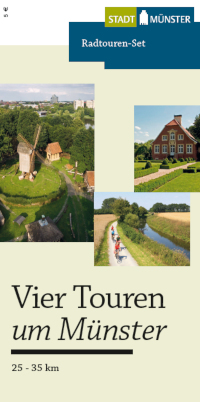 Title of the maps
4 attractive tours take you to romantic moated castles, stately manors, historical churches, and dreamy villages on the typical Pättkes (bicycle paths).
Tour 1: On the trail of Annette von Droste-Hülshoff (length: 28 km)
Tour 2: Discovering the Werse river and its surroundings (length: 25 km)
Tour 3: Nature protection area Rieselfelder (length: 33 km)
Tour 4: Between the Angel, Werse, and Hohe Ward (length: 35 km)
Each suggestion comprises a map section in the bicycle-friendly 1:30,000 scale and an accurate location plan of all tourist sites along the route. The bicycle station in front of Münster's main station is the starting and ending point of all tours.
You can obtain the maps at a price of EUR 1.50 each, or for a all-in-one price of EUR 5.00 at the Münster Information Centre, Heinrich-Brüning-Straße 7, 48143 Münster, Tel. +49(0)2 51/4 92-27 10, info@stadt-muenster.de.
Alle Touren auch bei Komoot
More about the tours including maps and GPX data: