Seiteninhalt
Bicycle tours
On the trail of the Peace of Westphalia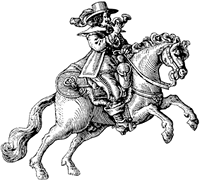 Der Friedensreiter
Course: Münster - Osnabrück
Length: approx. 170 km (circuit)

The symbol of the "Rider of Peace" guides the path that crosses a lovely landscape: the foothills of the Teutoburg Forest and the parkland of the Münsterland.
On the trails of the Rider of Peace of 1648, the Route of Peace connects the historical town halls of Münster and Osnabrück in the form of a bicycle touring track. There is an east and a west route, also allowing for the trip to be covered as a circuit.
Friedensroute
On the trail of the Peace of Westphalia (German only)
---
---