Seiteninhalt
City of conferences
Have a green conference in Münster
Healthy, sensible and sustainable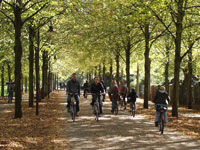 Picture gallery Bicyclists on the promenade
The awards as "Most Liveable City", as a "Bicycle city" or as a "Climate Capital" prove that a healthy, aware and sustainable lifestyle is not just one of Münster's guiding principles on paper, but can also be experienced in everyday city life. As our guest, we would also like you to benefit from the advantages and experiences in this area.
Keeping conferences green is a major priority in Münster!
Is it important to you that you organise your convention as sustainably as possible? Would you like to optimise your conference processes as regards the aspects of e.g. climate protection or saving resources? The Convention Office will be happy to assist you in your planning with bundled know-how – in a very uncomplicated way.
The Convention Office is committed in different ways, in cooperation with the Office for Green Spaces and Environmental Protection. We keep ready a wide and varied range of suggestions as to how you can arrange your event to be climate-friendly – ranging from questions of mobility to resource consumption and green IT to projects of compensatory climate protection.
Preserve our environment and have a green conference!
We can show you how to plan a 'green meeting' in just a few simple steps.
---
---
What we do:
In our quintuple bonus, there are two eco-friendly components: the Welcome!-Ticket and the train ticket with 100% green electricity.
We work exclusively with eco-friendly paper ("Blue Angel")
Energy-conserving printers and computers
Business trips by train
Short business trips mostly by bike or hybrid car (if available)
All Convention office events are designed in a sustainable manner and subsequently compensated (carbon offset)
Staff training
Trained sustainability consultant
Kampagne Fairtrade Towns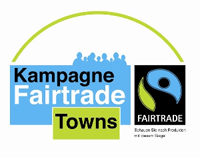 Kampagne Fairtrade Towns
Since 2011, Münster has been part of the worldwide campaigne Fairtrade Towns by the foundation TransFair e.V., which 900 cities and towns have joined already.
The campaigne aims at bringing together the different actors within a city (commerce, administration, society) to show the joint fair trade within the city. Furthermore, it is supposed to set an example against the poverty in Southern countries and for a fairer design of the global trade. This title is awarded to municipalities that advocate fair trade in a special way.
---
---