Seiteninhalt
Accompanying programmes
OVERSCHMIDT AASEE
Active Lake Aasee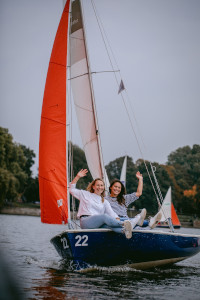 pedalo
Whether on the SOLAARIS or in one of our numerous pedal boats – we offer you the opportunity to experience Lake Aasee from its most beautiful side. The Solaaris is an ultra-modern solar cell catamaran, which moves silently over Lake Aasee using its electric drive. This allows you and your guests to experience the beautiful parkland in a unique atmosphere from the water. The Solaaris is also tried-and-tested as a location: Whether cabaret or wine tasting, business presentation or company party – the opportunities are virtually limitless. When it comes to shared enjoyment, our neat little pedal boat fleet provides an outstanding service. With our popular fun rallye, teams travel through a course of buoys and have to prove their knowledge at each buoy. Lots of fun in the fresh air and the well-deserved prosecco at the presentation ceremony will break any ice.
Duration:
SOLAARIS min. 1 hour, pedalo 1 – 1,5 hours
Participants:
SOLAARIS: 50 persons max
Pedalo-Rallye: 10 - 200 persons max.
---
Contact:
OVERSCHMIDT AASEE GmbH
Annette Allee 1, 48149 Münster
Your contact person: Margrit Mersch
Tel. +49 (0)2 51 8 49 30 00
---
---