Seiteninhalt
Catering
Vinothek am Theater
Seasonal, regional cuisine from Münster – wines from Europe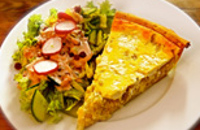 Vinothek am Theater
Here, you can choose between 30 open and about 150 different bottled wines from our winemakers in Germany, France, Austria, Spain, Portugal and Italy. We purchase all wines directly (even those from overseas). For those with a great thirst, we have beer straight from the barrel - brewed locally of course! Our kitchen uses predominantly domestic products and these are cooked fresh. Meat comes from smaller breeding operations that we know and the vegetables come from near-nature cultivation. Regional products become new pleasurable experiences through our creative cooking ideas.
We can organise for you:
Wedding celebrations
champagne receptions
wine tastings
company dinners
catering
---
Special features:
Wine can also be purchased from us for your own private consumption. We will deliver this to your door, anywhere in Germany.
Contact:
Vinothek am Theater
Neubrückenstraße 16, 48143 Münster
Your contact person: Niklas Richter
Tel. +49 (0)2 51 9 81 64 80
---
---