Seiteninhalt
Services
Catering-Service Rainer Eschrich
We help to make you successful with your guests, as quality is often the decisive factor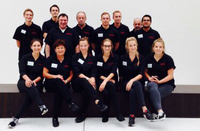 Picture gallery Catering-Service Rainer Eschrich
You can have your convention and trade fair events completely under control all year round with our catering.
We provide you with an oasis of peace and refreshment amid the hustle and bustle, where your customers can rest and enjoy culinary delights. Cateringservice Eschrich stands for professionalism, reliability and flexibility. You can rely on our experience and our creative ideas. We organise everything you need, from the decoration to the service staff on-site.
Whether it be corporate celebrations, trade fairs, sporting events, product presentations or big events – our Eschrich team will take on your individual wishes and provide you with first-class catering services for an all-round successful event.
Choose a type of catering tailored to what you need – either "Rustic", "Westphalian" or "Premium".
1.000 people max.
---
Contact:
Catering-Service Rainer Eschrich
Melchersstraße 75, 48149 Münster
Your contact person: Rainer Eschrich
Tel. +49 (0)2 51 2 21 73
Fax +49 (0)2 51 3 22 26 01
---
---