Seiteninhalt
Services
Lappe inEvent
Your 360° Event Supplier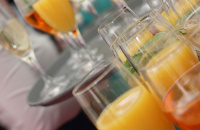 picture gallery Lappe InEvent
Decades of experience in event business combined with our own high demands & quality standards make us your strong Partner. Let us provide advice down to the smallest detail, so that your event is remembered by clients &/or friends for a long time.
Lappe inEvent offers you an extensive range of event equipment, marquees, locations, drinks & catering. From classic to elegant – we leave nothing to be desired.
---
Business fields:
Event tents, event equipment, event locations, professional event planning, personnel service, beverage service
---
Special features:
Over 40 years of experience, professional execution, regional partners and an ecologically sustainable approach.
Contact:
Lappe inEvent
Nieberdingstraße 12, 48155 Münster
Your contact persons: Uwe Lappe, Sabine Sander-Lappe, Falko Lappe
Tel. +49 (0)2 51 5 39 57 40
---
---