Seiteninhalt
Science
A strategic network for Münster
In the alliance for science, partners from science, business and the city are working for the expansion of Münster as a science and business location.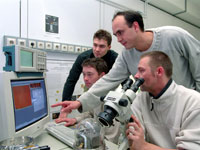 Research at the University
The objective of the strategic alliance is to develop Münster as a leading location as well as a location for science, research and development in order to also be able to score when it comes to international competition between cities. In addition to this, the aim is to expand scientific dialogue with the inhabitants of Münster as well as to communicate science and research in practical ways.
Initially, focus is placed upon these topics:
---
Nanobioanalytics
With the universities and scientific facilities, the scientific city of Münster possesses a high level of scientific excellence in the field of nanobioanalytics. The corporate landscape is developing accordingly: there are currently around 30 companies employing approximately 1,000 staff members active in the field of nanobioanalytics in Münster and in the Münsterland region, whereby their main focus is placed upon analytical and diagnostic products and services.
---
Body & Brain
The second focal point is "Body & Brain": the interaction between the psyche, the nervous system, and the immune system – and its implications for wellness and health. Münster University and Universitätsklinikum Münster have excellent, very well networked, interdisciplinary research in this field with international visibility which takes the holistic "Body & Brain" approach. Münster University of Applied Science also contributes valuable know-how to this field, in particular with its renowned Oecotrophology department.
---

Treaty of Westphalia
The third focus is placed upon the Treaty of Westphalia. Under the motto of "dialogue for peace", science and the history of the city are combined with contemporary and future issues. Alongside a week of events entitled "Münster 1648: Dialoge zum Frieden" [Münster 1648: Dialogues for peace], Münster occupies itself with current topics from conflict and crisis areas and, in doing so, increases perception of Münster in the context of the Treaty of Westphalia.
---