Seiteninhalt
Events and dates
What's up in Münster?
Be it top athletic performances, cultural highlights or plenty of fun for the young and old - Münster's calendar of events is filled to the brim throughout the year. And it often includes highlights that attract international even attention.
We've drawn up a series of special events for the current year in more detail.
We would be pleased to assist you in booking the appropriate hotel room or selecting the accompanying programme. Just call us or send us an e-mail.
19.9.2020 - 31.1.2021
PICASSO/MIRÓ
AN ARTISTS' FRIENDSHIP
The paintings, sculptures, graphic works, drawings and ceramics in this exhibition record the exceptional friendship between the two Spanish artists Pablo Picasso and Joan Miró.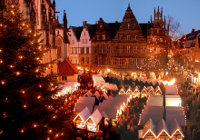 23.11.2020 - 23.12.2020
Christmas markets
Münster's Christmas markets are unique: over 300 stands and festive illumination await the visitors in the wonderful atmosphere of the historical old town. The Christmas market stands are lined up along the market streets like pearls in a chain. They are just a few minutes walk from one another other.