Seiteninhalt
Events and dates
What's up in Münster?
Be it top athletic performances, cultural highlights or plenty of fun for the young and old - Münster's calendar of events is filled to the brim throughout the year. And it often includes highlights that attract international even attention.
We've drawn up a series of special events for the current year in more detail.
We would be pleased to assist you in booking the appropriate hotel room or selecting the accompanying programme. Just call us or send us an e-mail.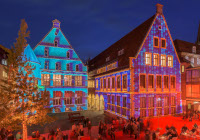 5.9.2019 - 7.9.2019
Schauraum- Das Fest der Museen und Galerien in Münster
Schauraum - Festival of Museums and Galleries
For four days in September, Münster becomes a well-mixed cocktail made up of art, culture and "dolce far niente". Illuminations, exhibitions, lounges, live music and the city's many and varied food offerings provide visitors with an intoxicating mix for all the senses.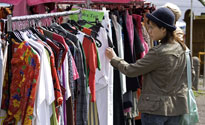 21.9.2019
Flohmarkt
Flea market
Muenster's flea market is one of the largest open-air flea markets in Europe and attracts thousands of visitors from home and abroad every year. The large flea market will take place on the Schlossplatz and the bordering promenade.
26.10.2019 - 3.11.2019
Herbstsend
Münster's fantastic funfair
The Send - Münster's biggest carnival and the oldest annual fair in the Münsterland - attracts over a million visitors every year. Around 250 fairground operators from all over Germany come three times a year to present the latest sensations on the Schlossplatz.