Seiteninhalt
Churches
Ludgeri-Kirche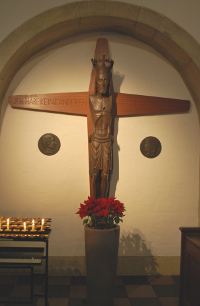 Ludgeri-Kirche
The collegiate and parish church that was founded in 1173 was built in the Romanesque style. This was the first construction of this type of stepped nave church that is common in Westphalia. Its distinctive crossing tower has two Romanesque floors that had two Gothic ones added to them after 1383.
The windows in the Gothic high chancel that were designed by Vincenz Pieper after the war and the "Cross without Arms" with the beam inscription "I have no arms other than yours" are especially worth taking a look at.
The church is located at the edge of the pedestrian zone between Ludgeristraße, Königsstraße and Verspoel. The secluded Marienplatz in front of the church is an inviting place to linger on one of benches underneath its trees on a warm day.
Ludgeri-Kirche
Marienplatz
---
---