Seiteninhalt
Places of interest
Münster's First Female Tower Keeper
In the St. Lamberti "Turmstube" or tower guard residence, Münster's tower guards have been hard at work for centuries. The first documented mention of a tower guard here is from 1383. 631 years later a woman is now doing this job for the first time: Meet Martje Thalmann, the tower guard at St. Lamberti since January, 2014.
---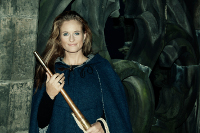 The tower keeper
The tower keeper is traditionally an employee of the city, not the church. While in the waning days of the Middle Ages right into the early modern era this job was largely considered to be somewhat socially undesirable, Münster's citizens today are proud of their tower keeper and the long tradition they represent.
One part of the tower keeper's job today is still to keep an eye out for fires in the city from the vantage point of the 75 meter tall St. Lamberti steeple. If a fire is seen, Ms. Saljé immediately notifies the Fire Department by phone from her residence.
Another very audible tower guard duty is "tooting". Every evening except Tuesdays between 9 pm and midnight the tower guard blows her horn, a replica from 1950 of the ancient horn from the 16th century. This time signal is blown in every direction of the compass: Prinzipalmarkt and Lambertusbrunnen toward the south, Domplatz to the west, Drubbel in the north. And legend has it that in the fourth direction, east, there was once a cemetery. "It's a well-known fact that the dead should not be disturbed. Otherwise horrible things could occur like those described in 'Danse Macabre'" by Goethe, explains Martje Thalmann with a wink of her eye.
Before taking on the duties of tower keeper at St. Lamberti, Ms. Thalmann studied music and history. Now she's keeping an age-old part of Münster's history alive with her copper horn and the work she does. At the same time she has also heralded the entry of the "Turmstube" into the modern world – in the form of the Internet. Today's tower guard writes a blog. This way she informs her interested readership about her work up in the St. Lamberti steeple – at least online. Insurance issues mean that public tours of the tower are unfortunately prohibited.
---
---