Seiteninhalt
Places of interest
Münster's port is attractive by day and night
Münster's municipal port has developed from a goods trans-shipment centre into the Kreativkai. Office buildings, art, culture, restaurants, and trendy clubs ensure that plenty is happening around the clock.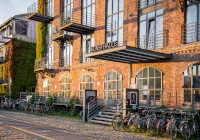 From granary to house of art: The 'Speicher II'
The particular charm of the municipal port of Münster lies in the mixture of restructured warehouses and modern architecture. Creative thinkers have found their district here: advertising agencies, architectural offices, and publishing houses, such as the Coppenrath Verlag with Felix the bunny have settled here.
---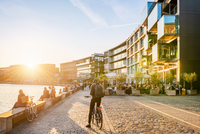 'Kreativkai'
Those eager to breathe in some port air during the day are recommended to see the Münster Kunsterhalle (Exhibition Hall). The Kunsthalle is located inside a converted warehouse, which also houses 30 artists' studios. Afterwards, the view over the water can be enjoyed from one of the numerous coffeehouses or restaurants.
---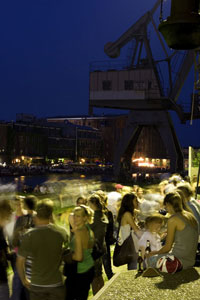 At the Port Festival
Fortified by a hearty meal, now you can forge ahead. What about taking in a movie or an evening in the Wolfgang Borchert Theater (Theatre)? Or do you prefer live jazz? In that case, the Hot Jazz Club might be the right thing for you. In good weather, the port is a big open air spectacle that lets you enjoy your long drink while lying in a deck chair under palm trees. And for all of you who like to dance the night away, there are plenty of options around the municipal port.
The annual Hafenfest (port festival) ranks among the highlights of Münster's event calendar. For three days (and nights), the port basin and the adjacent promenade are turned into a setting for musicians, events, and sport activities with a colourful programme for children and families.
---