Seiteninhalt
Churches
Observantenkirche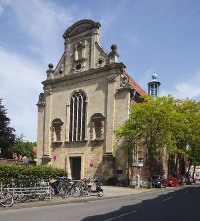 Observantenkirche
The Observantenkirche has an eventful history behind it. Built as a monastery church for the Franciscan Observants at the end of the 17th Century, the church was secularised in the early 19th century. The baroque portal, the tower and the vestry were removed. The building served as a stable before it was a prop room for the theatre and then almost completely destroyed in the Second World War.
The building has been used as church again since its rebuilding in 1961. The place of worship with its unostentatious interior is the Protestant university church and with its three organs, it is the concert church for the Faculty of Protestant Theology
Our tip: attend one of the Observanten concerts.
Observantenkirche
Schlaunstraße
---
---