Seiteninhalt
Churches
Petrikirche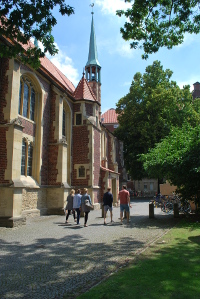 Petrikirche
The Petrikirche is the former church of the Jesuit College. It was erected between 1590 and 1597 and has a style that can be described as being between gothic and renaissance.
Today, the Petri Church is the church for the Catholic university students community and the Paulinum Grammar School. It is located between Fürstenberghaus, the faculties of law and Catholic theology, not far from the cathedral, direct on the banks of the Aa. The Petri Church is also very appreciated as a concert and wedding church.
Our tip: taizé prayers are held here at 7.00 p.m. every Wednesday during the semester.
Petrikirche
Johannisstraße
---
---