Seiteninhalt
Churches
Servatii-Kirche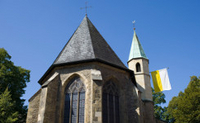 Servatii-Kirche
The Servatii-Kirche is the smallest church in mediaeval Muenster. It is also one of the city's oldest, it having been built around 1230. The Romanesque nave that is stepped aloft with alternating pillars and columns provides the observer with a view of a gothic high chancel – thereby proving that St. Servatii is a special form of early Westphalia nave churches.
The church extends an invitation to Eucharist prayers every day.
Our tip: when planning a shopping spree or taking a stroll along Salzstraße, plan a detour to the church that is located behind the Erbdrostenhof. The church is still located at the original mediaeval ground level and appears to have sunken a little when compared with the surrounding buildings.
Servatii-Kirche
Servatiikirchplatz
---
---