Seiteninhalt
Münster is well worth seeing: Guided city tours
Guided city tours of Münster
Would like to get to know Münster better? Then why not join a thematic guided tour - on foot, by bicycle or by bus?
There are a host of interesting and enjoyable offers for you: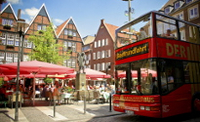 Der MÜNSTERBUS
The MÜNSTERBUS provides tours once an hour. You can hop on or off the red open-air double-decker buses as often as you like, at 12 different stops. The route takes you to Münster's sights, e.g. the Schloss (Residence), the Dom (Cathedral), Prinzipalmarkt, Erbdrostenhof etc. Tickets can be bought at the stops, at Münster Tourist Information or in advance by phoning +49(0)2 51/98 16 31 41.
---
---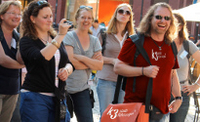 k3 stadtführungen Münster
k3 stadtführungen offer walking tours of Münster and a variety of themed tours exclusively for closed groups, as well as public events open to individual participants. The repertoire includes classic guided tours of the city (also in foreign languages), segway tours, murder and mystery tours, lightand-dark tours with figures such as the night watchman and bike tours.
Group bookings on +49 2 51 4 59 33, individual tickets available online.
---
---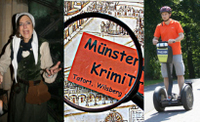 Stadt-Lupe Münster
Guided tours of the Old Town in 10 languages · city tours · guided cycle tours · walking tours with historical figures · tours for school classes · Münster murder and mystery tours · moated castles · Segway fun sightseeing · geocaching · city rallies for children and adults · team events · themed tours · recitations · satirical guided tours · programmes to accompany conferences, weddings, company parties …
---
---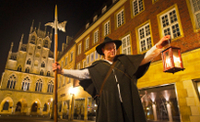 StattReisen Münster
Münster for Everyone: Informative, entertaining and culinary programmes in the city centre and at the harbour.
GPS rallies and Murder & Mystery Events: Entertaining and creative city games, as well as tours and package deals in "CSI Münster".
The Night-Watchman's Tour: An entertaining journey back through time to a Münster that has long since vanished.
---
---