Seiteninhalt
Service and information
Münster is nearby
No matter whether you arrive by car or train, by plane or bicycle, the university town of Münster is convenient to reach. Even coming to Münster by boat is not a problem.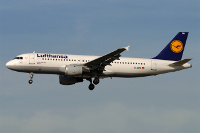 Airport Münster-Osnabrück
... by plane
There is a multitude of direct domestic and European connections at the international airport Münster-Osnabrück (FMO). You can fly to Münster from all over the world via Frankfurt or Munich Airport. From here, you can reach the city centre of Münster by bus or taxi in approx. 30 minutes. Up-to-date information at
---
---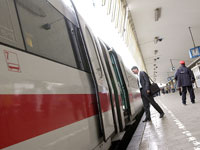 Münster's main station
... by train
Münster's main station is situated right in the city centre. Münster is linked with Germany's and Europe's metropolises via its IC, EC, and ICE connections. The train ride from Hamburg or Cologne to Münster takes two hours, from Berlin it's approx. 3.5 hours, while Enschede (NL) is a solid hour away. Up-to-date railroad connections are available at
---
---
Flixtrain
With the green FlixTrain you can travel cheaply, quickly and comfortably through Germany.
---
---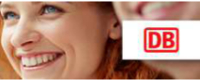 Event-ticket
DB event ticket
Good for the environment. Comfortable for you. For as little as 49,50 Euro (one-way)! Journey across all of Germany by rail.
Your long-distance journey with Deutsche Bahn with the event ticket is carried out with 100% green energy. The energy required is exclusively obtained from renewable energy sources. Book your journey easily online at the link above.
Information: Please note that for online booking, the event ticket is displayed at the earliest 6 months before the start of the journey.
---
---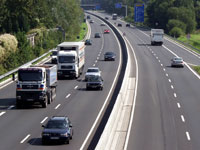 Speedway
... by car
You can reach Münster directly via the A1 and A43 speedways. The trip from Frankfurt a. M., Hamburg or Amsterdam will take you approx. 3 hours, the trip from Berlin to Münster takes approx. 5 hours.
---
---
Park your car free of charge and take the bus (subject to fare) into the old town, P+R facilities make this possible. Buses leave the P+R facilities at the Weseler Straße Mobilstation stop, at Preußenstadion (Hammer Straße) and at Albersloher Weg for the old town at very short intervals every day all year round, in the run-up to Christmas too.
The parking guidance system takes car drivers to the free P+R facility at Albersloher Weg from the Münster-Süd motorway junction. The city bus routes 6 and 8 (subject to fare) then take you into the city centre. If this car park should be full, you can park your car a few hundred metres further on at the Cineplex car park (all-day parking ticket just EUR 4) and buses take you from there into the centre.
The parking guidance system also accompanies car drivers to the parking facilities in the centre and displays where and how many parking spaces are still currently empty. Anyone who would like to get an idea of this before they leave home can use the Münster parking guidance system.
By the way, the number of empty parking spaces can also be seen using the free WBI app.
---
---
... by coach
You can also travel to Münster comfortably and cheaply by coach. The coach stops and starts at the car park on the corner of Hafenstraße/Frie-Vendt-Straße.
---
---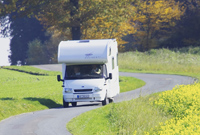 Mit dem Wohnmobil unterwegs
... by motor homes and RV's
You will find overnight pitches for motorhomes on and in front of the campsite Münster, whose facilities you can of course use.
Campingplatz Münster
(37 motorhome pitches - of which 22 are in front of the barrier and 15 on the campsite)
Laerer Werseufer 7
48157 Münster
Tel.: +49(0)2 51/31 19 82
www.campingplatz-muenster.de
With supply and disposal as well as electricity
Connection to public transport with bus line R22
Further motorhome pitches can be found here:
Motorhome parking Allwetterzoo Münster
(10 motorhome pitches)
Sentruper Straße 315
48161 Münster
Tel. 02 51/89 04-0
www.allwetterzoo.de
With electricity
Connection to public transport with bus line 14
Parking lot Albersloher Weg / Hafenstraße
(6 motorhome pitches)
Albersloher Weg 7
48155 Münster
Connection to public transport with bus lines 6 and 8
City centre within walking distance
Motorhome parking Eymann Sauna
(15 motorhome pitches)
Schadowstraße 1
48163 Münster
Tel: +40(0) 25 01/92 72 00
www.eymann-sauna.de
With supply and disposal as well as electricity
Connection to public transport with bus line 1 or from DB (train)station Amelsbüren
Parking lot Schlossplatz
(no information about the number of motorhome pitches)
Schlossplatz 8
48143 Münster
City centre within walking distance
At some major events, the parking lot for cars and motorhomes is closed.
Parking lot Hallenbad Ost
(10 motorhome pitches)
Mauritz-Lindenweg 101
48145 Münster
Connection to public transport with bus line 14
WOMO Hippo-Fun
(6 motorhome pitches)
Altenroxeler Straße 52
48161 Münster
Tel.: 01 72-2 31 12 92
www.hippo-fun.de
With supply and disposal as well as electricity
Connection to public transport with bus lines 10 and 20
---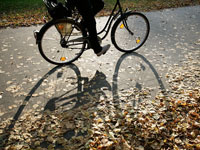 Getting around by bike
… by bicycle
A multitude of excellently signposted bicycle routes will guide you safely to Münster. The European Bicycle Track R1 from Calais to St. Petersburg, the Route of 100 Castles, the Route of Peace, and many more…
---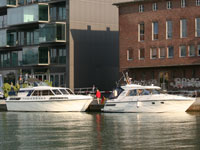 Münster's port
… by boat
Münster is linked to the European network of waterways via the Dortmund-Ems Canal. Boats tie up at the Creative Quay - where else?
More information
---