Seiteninhalt
Münster for ...
Tips (not just) for kids
Münster is just fun! Here, tall and small, young and old will find diversified recreation offers throughout the year. Whoever wants to can blast off into space together with Felix the bunny in the planetarium, take a pedal boat ride, do canoeing on the Werse river, observe rare birds in the irrigation fields, splash about in the swimming pool, go to the theatre again, etc. etc. etc.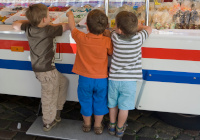 At the weekly market
In the "Tips for kids" we have compiled the variety of programmes in compact form to assist guests with children, grandparents visiting their grandchildren, or parents in Münster who are spoilt for choice.
At a glance you'll find museums, cinemas, and theatres with child-friendly programmes as well as sports facilities, playgrounds, and parks offering special playing and recreational facilities for children.
---
---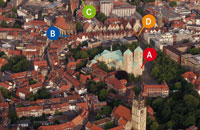 Münster City Game
Young explorers aged nine years and over will get their money's worth with the city game. Twenty questions about everything that is special in Münster have to be answered. The game and the answers are available from the Münster Information Centre and the information desk in the historic town hall. The game costs 4 EUR (plus 2 EUR packing and shipping) and can be ordered by telephone or by mail: +49(0)2 51/4 92-27 10, info@stadt-muenster.de
---
---