Seiteninhalt
Münster tailor-made
Leisure tour around the Aasee (lake Aa)
With its landscaped park, the Aasee offers a whole range of interesting, recreational activities for young and old - from a walk and a rest on the Aasee Terraces to a sailing trip or a visit to the zoo.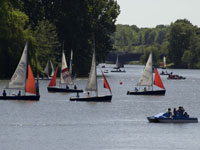 Sailers on the Aasee
During the summer months, the solar boat Solaaris transports its guests from the city centre to the four special Aasee attractions: the Allwetterzoo (All-Weather Zoo), the Westfälisches Pferde Museum (Westphalian Horse Museum) in the Allwetterzoo, the LWL-Naturkunde Museum (Museum for Natural History) including planetarium, and the Freilichtmuseum Mühlenhof (open-air museum).
---
Allwetterzoo Münster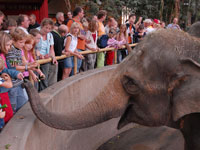 Feeding of the elephants in the Allwetterzoo
Get a firsthand animal experience in the Allwetterzoo Münster. Here, you can feed elephants or parrots or waddle around with the penguins. About 3,600 animals from all continents inhabit exemplary facilities, such as the ZoORANGerie for orang-utans, lion-tailed macaques and oriental small-clawed otters or the Affricaneum for gorillas, chimpanzees, and African pigs.
Allwetterzoo
Sentruper Straße 315
---
---
Westfälisches Pferdemuseum in the Allwetterzoo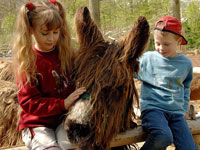 Children with giant donkey in the children's and horse park
Besides an exposition area of 1000 sqm and an extensive foyer, the museum includes the "Hippomaxx" arena where horse shows and other events are presented on a regular basis. The children's and horse park, inhabited by various races of horses and Poitou giant donkeys, was added in May 2005.
Westfälisches Pferdemuseum in the Allwetterzoo
Sentruper Straße 311
---
---
LWL-Museum für Naturkunde - Westfälisches Landesmuseum (Westphalian State Museum) with planetarium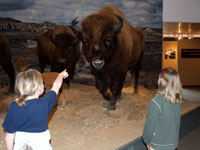 Children in the exhibition 'Indians of the prairy and plains'
There is a place in Münster where heaven on earth can be experienced underneath 9000 artificial stars, and voyages through time into the Mesozoic era can be undertaken in the blink of an eye. For stargazers, dinosaur aficionados, and all of those interested in nature and the human race, who want to know the way the world works, the LWL Museum for Natural History with its major planetarium is the place to be.
LWL-Museum für Naturkunde - Westfälisches Landesmuseum
Sentruper Straße 285
---
---
Mühlenhof-Freilichtmuseum Münster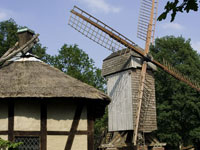 Mühlenhof-Freilichtmuseum Münster
The Mühlenhof is a virtual open-air museum of historic houses situated around the ancient post mill that was built in 1748 and relocated to the Aasee by "Builder" Theo Breider in 1960/61, including the Mühlenhaus of 1619, the splendid Gräftenhof of 1720, with Backhaus, Rossmühle, Spieker, and Kötterhaus, village shop, smithy, and an old school where from time to time even lessons are given.
Mühlenhof Freilichtmuseum Münster
Theo-Breider-Weg 1
---
---
The complete leisure tour for printing out:
---
---