Seiteninhalt
Art and culture
Architecture in Münster: Opposites attract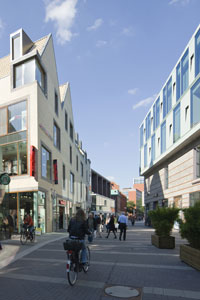 Stubengasse
Münster thrives on charming opposites. The restored old town follows tradition while carrying on wioth evolved structures. At the same time, there is also room in the city centre for modern and bold architecture. It's this mix that makes Münster so unique.
The townscape comes to life to those roaming around Münster with 1200 years of history. The square around St. Paul's Cathedral tells of the city's formative years. The medieval Hanseatic city is still readily recognisable at the Prinzipalmarkt with its gabled houses. The castle, the numerous churches, and the city palace of the late baroque period give testimony to the prosperity in Münster. And time and again modern buildings, such as the municipal library or the new building of the diocesan library, ensure that Münster is not only the keeper of history, but also a trendsetter for futuristic architecture.
The decision to reconstruct the major part of the city centre that had been almost entirely destroyed in World War II was sneered at at first as being conservative. But meanwhile, Münster's city centre is considered a model of modern construction in a historical context, because reconstructed buildings, re-creations, post-war buildings, and contemporary architecture merge into a unique overall picture.
Discover outstanding, innovative, and historically significant objects in Münster at a glance in the Internet guide to the architecture and art of engineering in North Rhine-Westphalia:
---
---