Seiteninhalt
Museums in Münster
Domkammer (Cathedral treasure chamber)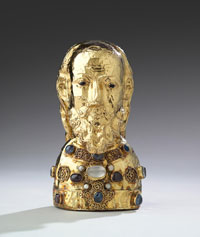 Reliquary head of St. Paul
The Domkammer (Cathedral treasure chamber) is closed until further notice.
With its unique treasures of gold work and fabrics, the Münster Cathedral treasury is one of the finest in Europe.
It ranges from sumptuous eleventh-century reliquiaries to valuable medieval, renaissance and Baroque liturgical equipment and fabrics, including objects as late as the twentieth century, although medieval masterpieces are the main focus. Seven hundred works in every artistic genre are shown on three floors, illustrating the liturgy and artistic history of St. Paul's Cathedral in Münster.
Domkammer der Kathedralkirche St. Paulus
Entrance on the north side of the cathedral cloister.
Horsteberg 7 - 9
---
---