Seiteninhalt
Peace of Westphalia
"Peace.Europe" – The joint project between the cities of Münster and Osnabrück in the European Cultural Heritage Year 2018
"Peace.Europe"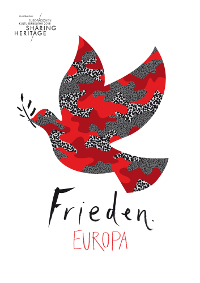 Poster for the joint project
The European Cultural Heritage Year 2018, initiated by the European Union, invited us to trace Europe's roots and values together and find answers to questions that are more pressing than ever today: What is Europe built on? What is the essence of the European idea?
With these joint investigations, special responsibility is given to cities awarded with the European Heritage Label, including Münster and Osnabrück since 2015 with their Peace of Westphalia town halls.
The Peace of Westphalia in 1648 is still of extreme importance for Europe's history and self-image today: as a peace treaty through dialogue and patient negotiation, as the end to bloody religious wars, as the foundation for peaceful coexistence between states with equal rights.
To do justice to this importance and their special responsibility during the European Cultural Heritage Year, Münster and Osnabrück organized a major joint project in 2018 – "Peace.Europe". The project was one of the largest German projects and was supported under the motto "Europe: remembrance and awakening" by Monika Grütters, the Federal Government Commissioner for Culture and the Media. It consisted of three elements that provided varied access to European Cultural Heritage in different ways:
---
---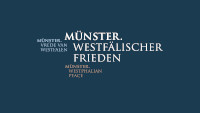 Münster. Peace of Westphalia
The history of the peace treaty's impact and the European importance of this place of remembrance were reinterpreted and presented for visitors in the town hall's civic hall in a contemporary way, including the use of digital communication technology.
---
---
Europe lab
Young people from 37 towns and cities awarded with the European Heritage Label are gathering in Osnabrück from 16 to 26 August to explore the dimensions of peace as historical heritage and Europe's future in five cultural labs with professional assistance. The European "Generation Future" is presenting its results on 24 and 25 August in Osnabrück's town hall.
Mehr zum Projekt "Labor Europa – Europäische Jugendbegegnung"
---
Peace. From Antiquity to the Present Day
A major exhibition collaboration between five museums at four locations in Münster focuses on the images, symbols, gestures and rituals of peace with the key question: Why do people always want peace and why can't it ever be permanently preserved? The collaboration involves: the LWL-Museum für Kunst und Kultur, the Kunstmuseum Pablo Picasso Münster, the Archäologische Museum der Westfälischen Wilhelms-Universität (WWU), the diocese of Münster and the City Museum of Münster – a unique cooperation supported by the WWU's "Religion and Politics" excellence cluster.
More about the exhibition "Peace. From Antiquity to the Present Day"
---