Seiteninhalt
Peace of Westphalia
A foray into town history
The walls of Münster have seen a lot and could tell many tales: as early as the Middle Ages the town was a cathedral city with the right to hold markets, later on a seat of power, then a provincial capital and residence of numerous prominent institutions and potentates – a notable example being the splendid castle created by the compass of Johann Conrad Schlaun.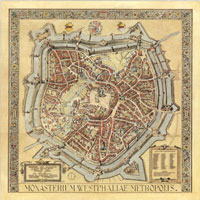 Etching by Everhard Alerdinck, 1636
In Münster, a part of the Peace of Westphalia contributing towards the ending of the Thirty Years' War was concluded in 1648. The Baptists founded their empire here, which ultimately turned into a reign of terror and perished in 1535. The major university today was brought into existence in 1773/1780.
In 1875, the first Westphalian zoo was established in Münster; the terrain was upgraded to a local recreation area by flooding the first portion of the Aasee (Lake Aa) in 1928. In 1924, the WDR (West German Broadcasting Corporation) was born in Münster. After the bomb terror of World War II, the citizens of Münster rebuilt their historical old town almost true to detail.
Since 1977, the International Sculpture Projects depict the "state of the art" of art in public space, affirming Münster's international renown as a city of art.
Münster is fond of recollecting its history: for example, 1993 was the "1200 years of Münster" anniversary while 1998 marked the 350th anniversary of the Peace of Westphalia.
Accompany us on a little foray into the history of the town. Below is an overview of important points in the history of Münster in four stages.
---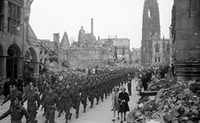 1945 to the present day
---
---