Seiteninhalt
Old Town
All around Münster's historical Town Hall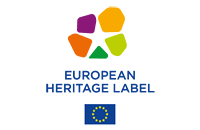 With its high gable, Münster's Town Hall, a gothic building from the mid-14th century, is second to none in Germany. The characteristic arch house was reconstructed true to the original in the 1950s.
In April 2015, the European Heritage Label has been awarded to the Town Halls of Münster and Osnabrück as the 'Sites of the Peace of Westphalia' by the European Commission.
---
---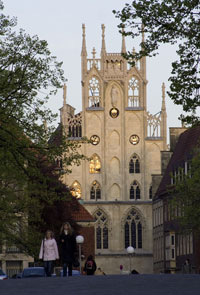 Münster's Town Hall
In 1648, the Friedenssaal (Hall of Peace) provided the backdrop to the invocation of the Spanish-Dutch Peace, which formed a part of the Peace of Westphalia.
The hall was restored completely in early 2003. The city scales and the wine supply, the monopole of which was owned by the city council, were kept in the Stadtweinhaus (City Wine House), northern neighbour of the Town Hall and erected in 1615 by Johann von Bocholt.
There may be changes to the opening times on some days as a result of events and receptions. Please enquire about this by phone on + 49 (0)2 51/4 92-27 24 or 4 92-27 11 at the information service in the historic town hall.
(Friedenssaal: Tuesdays to Fridays from 10 a.m. to 5 p.m., Saturdays, Sundays and holidays from 10 a.m. to 4 p.m. except for official events of the city). Admission free with münstercard
Town Hall
Prinzipalmarkt 10
Bell with intercom on the left-hand side next to the steps (small pillar)
Two information signs for the blind: the history of the gothic Town Hall and the gable of the house located at Prinzipalmarkt 27 in Braille which can be felt.
---
---