Seiteninhalt
Münster tailor-made
ArchitecTour
Despite the massive destruction wrought in World War II, Münster presents itself with an architectural ensemble rich in history.
Make a tour and discover outstanding, innovative, and historically significant objects in Münster.
The Rathaus (Town-hall)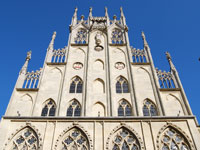 The Rathaus
After total destruction during the war, the Rathaus of Münster, a 14th century gothic building, was reconstructed almost true to the original in the 1950s. In the year 1648, the Peace of Westphalia was made in the Friedenssaal (Peace Hall) of the Rathaus, ending the Thirty Years' War.
---
---
Münster Arkaden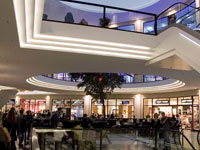 Münster Arkaden
The shop passage forms the heart of the Münster Arkaden built according to designs by Kleihues + Hensel, creating a public connection between the crowded Rothenburg and the pedestrian zone in the Ludgeristrasse.
---
---
Clemenskirche (Church)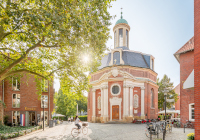 Clemenskirche
The former hospital church was constructed from 1745 to 1753 by Johann Conrad Schlaun by order of prince-elector Clemens August. It belonged to the monastery and hospital of the Hospitaller Brothers. The rotunda central building with its cupola, lantern and gorgeous interior has been restored faithfully based on Schlaun's designs.
---
---
The complete "ArchitecTour" for print-out:
---
---