Seiteninhalt
Münster tailor-made
If the sun goes into hiding …
You're in Münster and the sun has made itself scarce? You'll be amazed at how interesting a rainy day in Münster can be!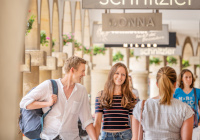 Prinzipalmarkt
Prinzipalmarkt
Start your journey of discovery in Münster's "parlour", the Prinzipalmarkt with its typical gabled houses. You can even take a relaxing stroll through the Arkaden even if it rains.
---
---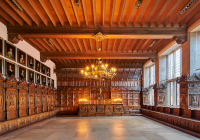 Friedenssaal
Historic Rathaus (Town Hall)
You'll find the historic Rathaus on Prinzipalmarkt. Take the time to visit the Friedenssaal (Hall of Peace) in the Rathaus.
---
---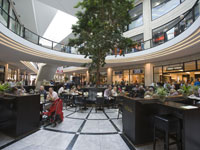 Münster Arkaden
Münster Arkaden
The Münster Arkaden, which are only a few steps from here, invite you to go shopping in any type of weather.
---
---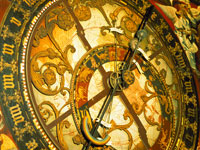 Astronomical clock
St. Paulus-Dom (Cathedral)
Visit St. Paulus-Dom. The foundation stone for its current appearance was laid in 1225. A jewel in the centre of the cathedral is the astronomical clock which dates from the late Middle Ages. A large weekly market is held in the shadow of the cathedral every Wednesday and Saturday.
---
---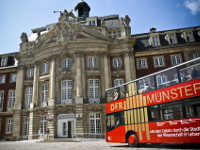 'Münsterbus'
City tours
With the "Münsterbus", you can familiarise yourself with the city centre sights in comfort and protection against the weather.
---
---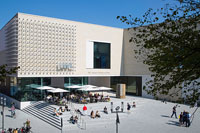 LWL-Museum für Kunst und Kultur
Museums
More than 30 museums invite you to go on a journey of discovery in Münster – from the cathedral treasury to the graphic works of Pablo Picassos, from the Museum für Lackkunst with its examples of lacquer painting to the LWL Museum für Kunst und Kultur. The Stadt Museum (City Museum) provides you with a wonderful insight into Münster and its past, and the best thing is: admission is free!
---
---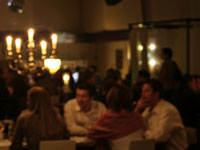 Restaurant
Let your day in Münster come to a close in a typical Westphalian restaurant.
---
---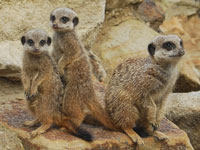 Suricates in the zoo
Something for the kids
Visit the Allwetterzoo (All-Weather Zoo) Münster. The covered "all weathers passages" protect you from the wind and rain.
---
---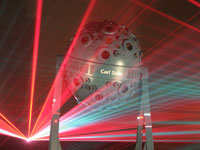 Planetarium
The LWL-Museum für Naturkunde (Natural History Museum) and its large planetarium is the right place for stargazers, dinosaur fans, and anyone who is interested in nature and humankind.
---
---
You will find more suggestions in "Tipps für Kids".
---
---