Seiteninhalt
Münster tailor-made
Münster in half a day
Unfortunately you only have half a day to spare? Some sights in Münster are an absolute must. Below we've compiled a small selection of points of interest for your visit and wish you lots of fun!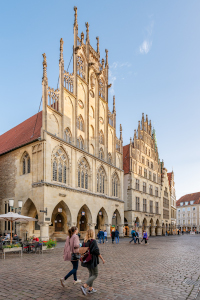 Rathaus
Rathaus (Town Hall)/ Friedenssaal (Hall of Peace)
Start your journey of discovery at Münster's landmark, the Peace of Westphalia Rathaus and visit the Friedenssaal.
---
---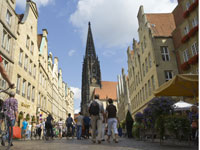 St. Lamberti Market and City Church
St. Lamberti Market and City Church
Continue on to the St. Lamberti market and city church on Prinzipalmarkt with its three cages on the tower which were used to display the bodies of the three leaders of the Anabaptist Movement in the middle of the 16th century.
---
---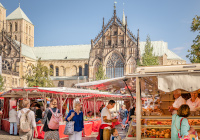 St. Paulus Dom
St. Paulus Dom (Cathedral)
Visit St. Paulus Dom. The foundation stone for its current appearance was laid in 1225. A jewel in the centre of the cathedral is the astronomical clock which dates from the late Middle Ages. A large weekly market is held in the shadow of the cathedral every Wednesday and Saturday.
---
---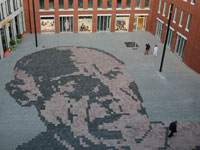 Picassoplatz
Kunstmuseum Pablo Picasso (Museum of Pablo Picasso Art) Münster
The Kunstmuseum Pablo Picasso which opened in 2000 is a special attraction. Look down at Picassoplatz from the 2nd floor of the museum and marvel at the head of the artist made of plaster.
---
---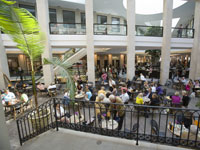 Münster Arcades
You still have time for a shopping spree in the Münster Arkaden or in the city centre's shopping streets. Finish you journey of discovery by visiting one of the numerous bars and restaurants in the city centre.
---
---